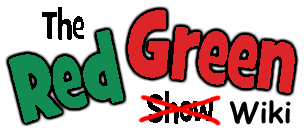 Welcome to The Red Green Wiki
The wiki about The Red Green Show that anyone can edit.
We have been working on 635 articles about our favorite TV show since December 2008.
Contents
| | |
| --- | --- |
| Show Information | Trivia |
What's new on The Red Green Wiki
March 7, 2018

Welcome to the Red Green Wiki, anyone who is here from the RedGreenJrTV Twitch channel! As you can see, this wiki project is FAR from finished, and we definitely welcome your help! Got some trivia or production notes from the show? Want to tackle a transcript or some Fun Facts? There's lots of ground to cover - any and all help is welcome. :) Even if you're not handsome, we'll still find your help handy.
February 20, 2018

Wow, it's been a while, eh? And how times have changed! In addition to regular episodes and clips being posted on YouTube, there is now a Twitch stream of the show at https://twitch.tv/redgreenjrtv . As the username implies, this is hosted by the son of Steve Smith. Full episodes being aired there, and live commentary from Mr. Red Green Jr. himself on Wednesday evenings. Follow the link and check out the schedule. :)
October 29, 2009

Things are still coming along, but slowly. Currently we only have two active users, KieferSkunk and MHarrington, the latter of whom has done a tremendous amount of transcription work! We could always use more help, so come on and join us!
May 15, 2009

Work has begun on episode transcription! For a guide on transcription techniques, see the Project Standards page. For an example of an episode transcript, check out our first complete transcript for the episode "Harold's Leaving".
December 11, 2008

S&S Productions, the production company for The Red Green Show, has just given us permission to use their materials on this wiki! See the Acceptable material policy for more information.
This week's Featured Article
Featured articles are currently down due to lack of content on most pages. Sorry for the inconvenience.