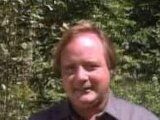 Garth Harble (Derek McGrath) is one of Possum Lake's animal control officers. He is bold and daring when it comes to controlling animals, and he often resorts to some rather unconventional methods. Unfortunately for him, this tends to get him into trouble both on and off the screen, usually prompting him to remark "another super day". He's almost always seen wearing a plain gray jumpsuit. He also appears to be very bitter towards his boss, often making snide remarks about him.
Occasionally, he will tell Red that he will "pretend he didn't hear that" after Red unwittingly relates a story about cruelty towards animals that the Lodge members have committed.
Garth only appeared in the fifth season. According to his successor, Ed Frid, he retired after getting bitten by a toad. Ed said that Garth lost his nerve after that.
Key Segments
[
]
Actor Notes
[
]
According to a commentary by Steve Smith, Derek McGrath had to commute from Los Angeles to shoot for the show. This was one of the primary reasons why he left the show.
See Also
[
]