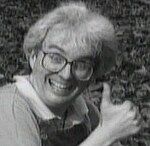 Bill Smith (Rick Green) is the star of Adventures With Bill, one of the staple segments of The Red Green Show. Bill is an accident-prone, adventure-seeking man who tries all sorts of different things, usually with Red's help, and in almost every case he ends up getting hurt somehow. However, he always springs back in the next episode as though nothing happened.
Bill is usually only seen in the Adventures segments, but he also makes a couple of rare appearances outside of these segments as well, primarily in the second season. He has also appeared once in a scene with Red and Reg Hunter in a third season episode called The Tanks We Get, in which he bangs two deer antlers together and is nearly shot by Reg. In these segments, it is revealed that he wears a bright magenta shirt under a pair of bright blue overalls.
One of Bill's most distinguishing traits is his uncanny ability to pull almost anything out of his overalls. This often draws comments from Red, such as "How long does it take you to dress in the morning, Bill?" He will also often accidentally damage the Possum Van in some way, to Red's chagrin.
Key Segments
[
]
Actor Notes
[
]
See Also
[
]